Welcome to Mount Pleasant's brand new premier neighborhood, Oyster Point!
Just 4 miles from Isle of Palms and 2 miles from Towne Centre with quick access to Highways 17 and 526, the location is unbeatable. This highly anticipated community is located five minutes from Isle of Palms Beach and is situated overlooking Hamlin Sound and Gray Bay.
Featuring gorgeous home sites backing to lagoons and sprawling oaks, the neighborhood itself is equipped with state of the art amenities. The neighborhood has been developed by DR Horton and will boast waterfront homes. The neighborhood has a small private island and is hoping to have a bridge built for access!
After you fall in love with your new home, fall in love with your neighborhood. Planned to be finished with over three miles of multi-functional trails, state-of-the-art amenity center that features a three-level fitness facility, four tennis courts, a Junior Olympic zero entry swimming pool with dedicated lap lanes, and more. Not only are Oyster Point homeowners privy to the amenity center, but hop back on the trails and find yourself at Fort Palmetto, the last remaining Civil War Fort in South Carolina. This neighborhood is rich in South Carolina history and contains over 25% protected conservation land.
Oyster Point, one of mount Pleasant's newest communities, will provide a unique opportunity to live near the last remaining Civil War fortification in Mount Pleasant.
__________________________________________________________
D.R. Horton Homes, was set to break ground on a spectacular 600-acre land conservation community in April. Carefully planned around acres of lakes, walking trails, beautiful live oaks and an impressive amenities center, Oyster Point, in conjunction with the South Carolina Battleground Preservation Trust, will preserve historic Fort Palmetto.
Because the plans for the fort, designed by Gen. Robert E. Lee, are archived in the Library of Congress, historian and author Doug Bostick was able to create a 3-D representation, complete with re-enactments. D.R. Horton gave the land occupied by the fort to the town of Mount Pleasant, along with a conservation easement that will provide public access to the area now and in the future.
In addition to a gun platform that children can climb to get a view of what the fort's defenders saw, interactive signs and cutting-edge technology will provide the opportunity for visitors to watch 3-D educational re-enactments accompanied by historical commentary.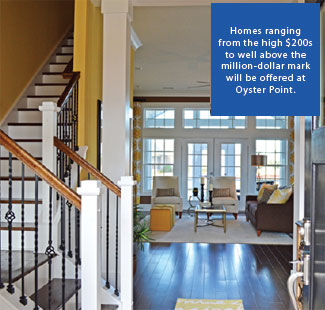 The past will be a part of Oyster Point and so will the future. The sweeping entrance to the community, over a large bridge, offers a glimpse of what lies beyond. An impressive 30,000-square-foot amenities center and club-house has been skillfully designed by well-known Charleston architect Sandy Byers and his team at Byers Design Group. The firm is accredited by Leadership in Energy and Environmental Design (LEED), an organization that encourages green building practices. Artfully reminiscent of a plantation-style building, it will feature cardiovascular and weight training, spacious covered verandas for outdoor entertaining, a beach entry pool complete with swim lanes, tennis courts, playgrounds and ponds.
A variety of trails, perfect for walkers, joggers and those who travel by golf cart, lined by magnificent live oaks, will lead to the water and a signature boardwalk to Oyster Point's private island. This tranquil sanctuary will feature a deep-water dock surrounded by the spectacular views that epitomize the Lowcountry.
Model homes will soon be built at Oyster Point, and residents are expected to move in by late winter. In addition to town homes starting in the high $200s and single-family dwellings starting in the mid to high $300s, there will be a selection of ranch style homes catering to active adults and retirees. Select offerings ranging from the $500s and larger and million-dollar dwellings backing up to the waterway will be available from the exclusive D.R. Horton Emerald Homes collection.
After gifting $5 million to the town of Mount Pleasant to help defray the cost of road improvements, D.R. Horton has clearly prioritized the preservation of a vital part of Mount Pleasant's history.
Inquiry for Oyster Point
---
---