Coming Down Easier Than Going Up!
---
Showing our community pride in true Charlestonian fashion, I decided to enter ourselves in last week's Cooper River Bridge Run. I have never run any sort of race before, so naturally I began training about a month before. Seabrook Island commissioned a tour bus to transport residents to the event, but we decided to drive ourselves so we could have more freedom after the race. Race Day came very early in the morning since we would need almost an hour to get downtown. We planned to park at the Aquarium, but were greeted with squadrons of police officers blocking off streets. Anticipating a sweaty run- I was sporting shorts and a T-shirt, boy was it chilly as we boarded the school buses downtown. Once we got off the buses in Mt. Pleasant, it became apparent to us that we had about an hour to kill before even thinking about the starting gun. We quickly sought warm refuge in a Dunkin Donuts that was as packed like a dance club. Just thinking about running 10 kilometers made me shun the idea of eating a donut, but I was happy to be indoors.
We found our place in the starting cue- orange: over one hour. The start was very organized and fluent considering there were over 40,000 runners in the streets. I am not a very fast runner and knew it would likely take me just over an hour to finish the race. I had no aspirations of making a certain time- I just wanted to run the whole thing. I was feeling good, but there were too many people walking in my way. Wait a minute…. How is it that I am passing people that entered the race in a faster category than me??? This was a major problem for me the entire race- walkers on the left. Next year I am going to enter in the fastest category just so I am not tripping over so many walkers!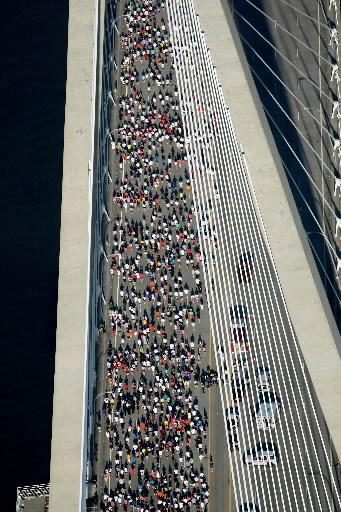 As I reached the base of the bridge I was feeling good. After a few minutes of climbing the grade I began to tire and at one point was looking for an exit on the right so I could walk. The bridge was just to crowded- I couldn't get over, so I kept running. Once I reached the crest of the bridge I felt like I was on auto pilot going down and knew I would have no problem finishing the race. The water stations were a welcomed sight and the port-a-potties with lines of women waiting provided a laugh.
Once I started into downtown there was no short supply of cheerleaders to keep me going. Determined not to be passed by jogging vegetables from Bi-Lo or Gumby, I just kept running. By mile 5 I was exhausted and surely pushing my threshold, but the excitement of finishing pushed me on. (along with 200db of Soulja Boy from a van that looked like it just stepped out of an episode of "Pimp My Ride") Shortly after puffing up with energy to look athletic for my finish line photo, I crossed the finish line number 16,697 with a time of 1:09:04. (not bad out of over 31,000 finishers)
We felt really great about finishing the race, and since the streets were still blocked for another hour- we rewarded ourselves with bloody mary's from the Mellow Mushroom.
I plan to do this event again next year. I thought the bridge run did a great job of bringing the community together and personally enhanced my life (for about four weeks) with physical activity. Not to mention the millions in revenue that this event brings to Charleston. This event brings thousands of out of towner's to enjoy the picturesque low-country- which is a big boost to the real estate market. Few can resist (including myself) daydreaming of living a slower southern lifestyle in Charleston after visiting. I saw two different real estate agents trying to capitalize on this psychology by wearing "listing" T-shirts during the run. They certainly got my attention- I had nothing else to read during the race! - Shawn Pillion

---
---